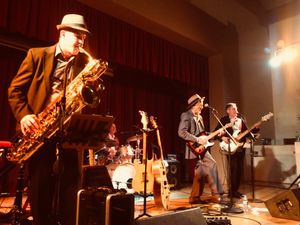 The Jump Jax will Get the Place Jumpin'!
 The Jump Jax are an electrifying quartet of seasoned, professional musicians that bring their own fresh take on good-time tunes to the Central Coast Music Scene. This group of energetic musicians bring a lively and danceable mix of classic jump-blues, swing, soul and rock-a-billy as well as their own tasty originals all of which is guaranteed to get the heart-pounding and the feet moving. 
Songwriter Ted Waterhouse leads the band on fluid electric arch-top and slide guitar along with vocals. The inimitable Ron McCarley lays down swinging jazz and soul riffs on baritone & tenor saxes. Ace drummer Michael Smothers provides the cookin' beat and adds superb lead and backing vocals. Bassist Dave Block locks into the groove while providing more great vocals.  
All together these four exceptional musicians bring a sound that is sharp and focused with dynamics suitable for any sized venue. The band's performances convey their deep love for classic American musical styles delivered with their own jumpin' spin. You are going to love The Jump Jax!
"The Jump Jax jump & swing & do their thing to the audience's bliss! The dance floor is full, doesn't get better then this! They pack my place every time they play !"
          Charlie Puffer, Owner
              Puffers of Pismo
 "  The Jump Jax are a great addition to the Central Coast music scene. These skilled musicians have found their groove. Their upbeat sound paired with their amazing energy makes for a great show every time! "
     Nikki Price, Event Coordinator
       Talley Vineyards,  Arroyo Grande
" The Jump Jax have performed numerous times at D'Anbino Cellars.  Whether you are listening or dancing to their music they are definitely a crowd pleaser! 
Carmine Rubino, Owner
D'Anbino Cellars,  Paso Robles
" The Jump Jax  provide a hip new blending of the New and the Old! Their combination of vocalists along with interesting Guitar & Sax work keeps this quartet refreshing throughout the evening!
Curtis Reinhardt, Event Coordinator
Arroyo Grande Summer Concerts & Festivals
 " It's a great time at the winery when The Jump Jax play! They always get everyone up and dancing!"
Keith Kelsey, Owner
Kelsey See Canyon Vineyards
Press Photos