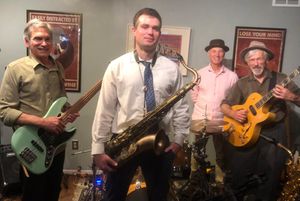 The Jump Jax
The Jump Jax are an electrifying quartet who bring their own fresh take on great tunes to the Central Coast Music Scene. These four, seasoned pros bring an energetic and danceable mix of classic Jump Blues, Swing, Rockabilly and Soul along with Tasty Originals guaranteed to get hearts pounding and feet moving.
Songwriter Ted Waterhouse leads the band on fluid electric arch-top and slide guitars and vocals.  Sam Franklin lays down swinging jazz and soul riffs on tenor and baritone saxes.  Ace drummer Michael Smothers provides the cookin' beat and adds superb lead and backing vocals. Bassist Dave Block locks into the grooves while providing more great vocals.  
All together these four exceptional musicians bring a sound that is sharp and focused with dynamics suitable for any size venue. The band's performances convey their deep love for classic American musical styles delivered with their own unique jumpin' spin. You're going to love the Jump Jax!
Upcoming Gigs
 For more information contact Ted directly /contact
Atascadero First Friday
5:30pm to 7:30pm
Atascadero Sunken Garden
Free Concert
Fall Sip & Shop
Tickets at: www.atascaderochamber.org
 
Clairborne & Churchill
San Luis Obispo
October 29th
1:00pm to 4:00pm
https://www.claibornechurchill.com/events/